Los Angeles
Volunteer Sign Up
Before volunteering for one of our events, you need to sign and submit our online WAIVER. You can then select an event from the calendar below and click on the link to sign up and register.
Best Friends Animal society

Families with children under 15 can help by making dog toys, treats, beds, blankets and more. You can make these projects at home and bring them to the center for volunteer credit. For a list of pre-approved DIY projects click here.
For families with children 16+, to begin the volunteer process please follow this link, volunteers.bestfriends.org.
On the 3rd Saturday of every month from 10am to 12pm parents and children ages 5+ meet at various beaches around LA County for a "Nothin But Sand Beach Cleanup".
Most Saturdays from 8am - 12pm, families with children ages 14+ are needed to help sort, inspect, and repackage donated food items from local food drives as well as assemble food packages for over 26,000 low income seniors, women with infants, and children in Los Angeles County. Locations vary depending on event - check the calendar for further information.
Native/Environmental/Xeriscape/
Temescal/Garden

On the last Saturday of every month, families with children 6+ are invited to help improve this sustainability demonstration garden at the top of Temescal Canyon Park (NE corner). Come for a minimum of one hour between 9am-4pm.

The N/E/X/T/Garden is co-sponsored by Palisades Beautiful and the Pacific Palisades Garden Club under the auspices of the Los Angeles Department of Recreation and Parks.
For more information about the N/E/X/T/Garden, contact Michael Terry at
michaelgterry@hotmail.com https://www.palisadesbeautiful.org/nextgarden.html
On the last Sunday of every month at 4pm, families with children ages 7+ prepare and fill 170 boxes with food and supplies then hand deliver the boxes to local families who rely on these goods. Choose your date on the calendar to sign up.

Located a short drive from West Los Angeles, Santa Monica, Pacific Palisades and Beverly Hills.

For more information about One on One Outreach, contact Michael Schwartz at
michael@oneononeoutreach.org
www.oneononeoutreach.org
Families with children 6+ are encouraged to join us sort and organize their clothing closet.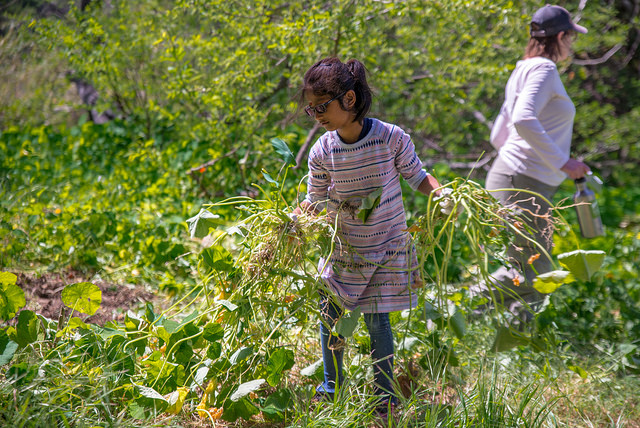 Families with children 6+ will help plant new trees, care for old ones and maintain trails and parks around Los Angeles. Locations and times vary.
Families with children 6+ engage with residents while participating in a variety of opportunities such as Arts & Crafts, BINGO! Giant Crossword Puzzle and more